My name is Saul. I grew up surrounded by flooded rice fields in Northern Italy, but at some point in my life I realized Venice was where I wanted to live. Water is the (only?) constant. I started this blog when I moved to the Basque Country (at the bay of Pasaia).
Why?
Five years spent in Venice made me discover my love for wooden boats (I need to thank il Caicio for that), so I decided to become a boatbuilder. Strangely but not surprisingly, there is no school for shipwrights in Venice. Therefore, here I am having to leave Italy following my dreams, as many other people of my age do.
I started out this blog as a personal diary of this adventure, and then got stuck for a year in 2020 (not only because of the pandemic). Now I am rebooting it in English, as a way to document my work. I hope you can find it interesting.
The English part starts here: https://acquastanca.eu/?p=1133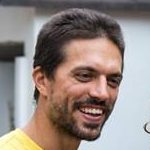 Mi chiamo Saul. Sono cresciuto tra le risaie della Lomellina, ma a un certo punto mi sono reso conto di voler andare a vivere a Venezia. A quanto pare, l'acqua è una costante della mia vita: inizio questo blog mentre sono in procinto di trasferirmi nella baia di Pasaia, nei Paesi Baschi (non Bassi, Baschi).
Come mai?
I cinque anni trascorsi a Venezia mi hanno fatto innamorare delle barche in legno (soprattutto per merito del Caicio), ragion per cui ho deciso di intraprendere un percorso per diventare maestro d'ascia, ovvero carpentiere navale. Per quanto possa apparire strano, a Venezia non esiste una scuola di questo tipo: eccomi quindi a rappresentare una fuga di mani, anziché la più classica fuga di cervelli che ci si aspetterebbe da un laureato in magistrale all'Università Ca' Foscari.
Questo blog nasce per varie ragioni: vuole essere un diario per me, dove annotare l'evoluzione di questa mia avventura che durerà almeno tre anni; vuole essere un modo per provare a raccontare e far capire quello che sto vivendo a chi tra i miei amici e parenti mi legge dall'Italia; e infine spero che possa risultare una lettura piacevole anche per chi non mi conosce ma magari ama le barche e/o pensa di intraprendere un viaggio simile.
Si inizia a leggere da qui: http://acquastanca.eu/2018/11/13/hkg/